Kuechmann Kove Is Now Open Thanks To Our Volunteers & Donors!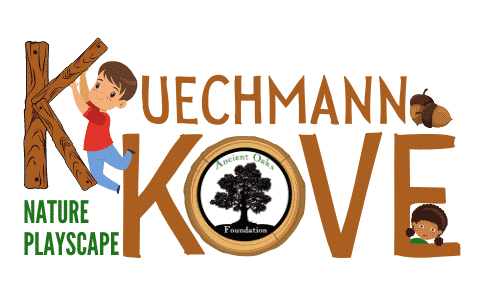 Support This Community Project!
Kuechmann Kove Nature Playscape
We are excited to report that we have been able to open Kuechmann Kove with all of the donations we have received to date! We are seeking donations that will help us continue to build upon the playscape's current features.  Please select a donation amount below.  Any denomination will be hugely appreciated!
KUECHMANN KOVE OVERVIEW
A nature playscape (or natural playground) is defined as a space with as few man-made components as possible. Using native plants, natural components and lots of trees, these playscapes represent a natural place or ecosystem. Playscapes are designed with the intent of bringing people back to nature. These spaces are intentionally designed to provide children with opportunities for unstructured play. Studies show that children who play on these natural playscapes or playgrounds tend to play longer and stay more focused.
The Village of Lake Zurich Board has approved our project for developing a portion of Kuechmann Arboretum into a Natural Playscape that we will call "Kuechmann Kove".  AOF is asking the community to come together to raise money for this unique outdoor recreation area that can be used for generations to come!  Let's get our kids outside and using their imagination to PLAY!  
Rendering of Future Kuechmann Kove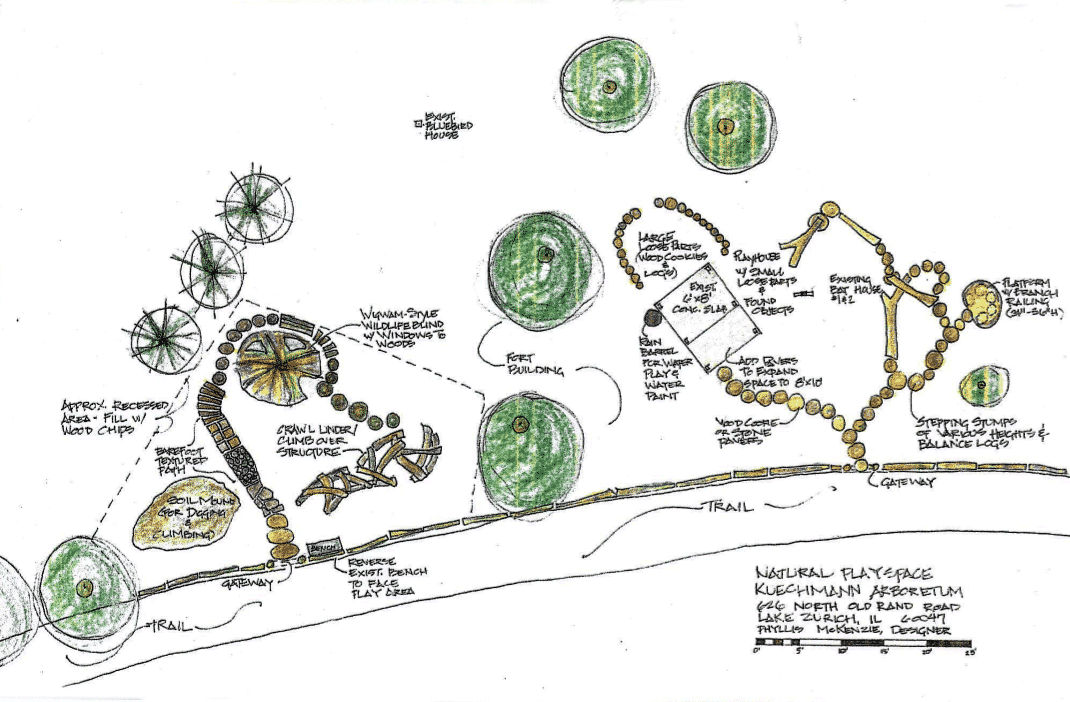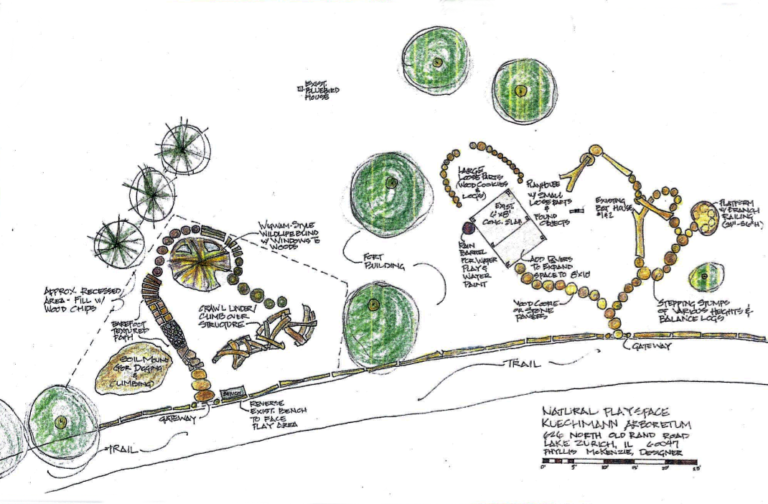 Researching This Project
We envision Kuechmann Arboretum as the perfect location for a nature playscape due to the size, location, trail connections and natural communities located there. Kuechmann is classified as a neighborhood park and this inclusion of an arboretum and playscape fulfills that role.
In getting ready for this partnership board members from AOF have visited, researched, and contacted experts. Sites visits have occurred by multiple board members to multiple examples.  All effort was made to experience as many different levels or project costs to see the variety of materials used.
During the research several styles of playscapes were investigated. It was determined that the best fit was one that emphasized the natural features of the park and of our village. A consultant from River Edge Nature Center in Newburg Wisconsin was contacted. Their experts have been nationally trained in design and construction of playscapes. The staff has several layers of services, but all the opportunities provide a community component.  Building the playscape and improvements at Kuechmann Arboretum also contributes to the bigger vision of community connections. With the addition of Lifetime Fitness to the Village the connection trail at Kuechmann becomes even more valuable.
These photos are taken from other nature playscapes around the Chicagoland area.  They are the inspiration we have used to develop the Kuechmann Kove blueprint.